About Dental Implants
If you are missing one or more teeth, dental implants are considered the superior choice for tooth replacement. Unlike removable dentures and dental bridges, implants provide a permanent solution without the need for additional maintenance. The results achieved with dental implants are typically more natural in function and aesthetics compared to other options. This is because the implant becomes a part of your jaw. It replaces both the visible tooth and supporting root, which provides the unique benefit of preserving your bone structure – a feature not attainable with other replacement options.
The multi-step dental implants procedure begins with surgical placement of a titanium post where the tooth root once was. This gradually fuses with your jawbone to provide a solid foundation for the artificial tooth. Once this step is complete, a connecting piece (or abutment) is typically attached to the post, which will secure your specially crafted dental crown. The entire process – from placing the implant to affixing the custom-made crown – is performed in-house with our state-of-the-art technology to provide added convenience, comfort, and safety.
When you choose Cornerstone Dental for your dental implants, you will receive care from one of the country's top dental implant providers, Dr. John D. Beckwith. He will work closely with you to determine your candidacy and begin the planning for your procedure. To get started, please contact us to schedule your appointment.
Am I a Candidate for Dental Implants?
Dr. Beckwith will perform a comprehensive oral evaluation to determine if you are a good candidate for dental implants. In general, those who qualify for the procedure exhibit the following:
Missing one or more teeth and are looking for an alternative to a denture or bridge
Have sufficient jawbone density to support the implant
Generally healthy with no medical condition that could interfere with the healing process
Not currently receiving cancer treatment such as chemotherapy or radiation
The implant procedure can be performed on those who seek to fill the gap of a missing tooth or to replace a denture or bridge. If you prove to not be an ideal candidate, Dr. Beckwith will help you find an alternative solution that can align with your goals as closely as possible. Some individuals may be better candidates for variations of the procedure, such as implant-supported dentures or mini dental implants.
Benefits of Dental Implants
Dental implants are the ideal replacement for missing teeth because of their many benefits. Since they replace each individual tooth, dental implants act just like your natural tooth. Unlike dental bridges, implants are a self-supporting structure that do not require the adjacent teeth to be altered. They also don't involve any additional maintenance beyond routine brushing and flossing.
Perhaps one of the greatest benefits of dental implants is the long-lasting nature of the tooth replacement. They become a permanent part of your mouth and help prevent bone recession in the jaw, which results when one or more teeth are lost. By preserving your quality of bone, you can maintain your cheek contour and avoid the sunken appearance caused by missing teeth.
Dental implants can replace one tooth or an entire arch of teeth. If you are missing several teeth, you can also opt for an implant-supported full or partial denture. Unlike traditional dentures, dental implants offer an improved ability to speak and chew, as there are no removable structures or messy adhesives involved, which are common issues with denture-wearers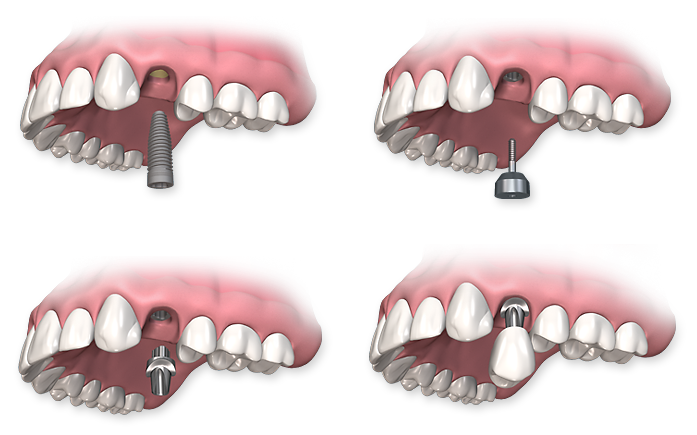 Choosing a Dental Implant Provider
When selecting the surgeon for your dental implant procedure, it is important that you find a highly qualified and experienced professional. By choosing a doctor who has undergone the necessary training and frequently performs the procedure, you can ensure you are receiving safe care and limit your risk of complications. In addition, the expertise of the professional who crafts and affixes your dental crown to the implant post will determine the aesthetics of your new restoration in conjunction with the rest of your smile.
Patients who come to Cornerstone Dental for their implant procedure are receiving care from a specialist with the highest level of skill and expertise possible in implant dentistry. While some practices may refer you to an oral surgeon to complete the implant placement, or to a cosmetic dentist to attach the crown, Dr. Beckwith is experienced in all stages of the process. He has undergone extensive training in implant dentistry to offer patients high quality care. Dr. Beckwith is a Fellow of the International Congress of Oral Implantologists (ICOI), as well as a Diplomate of the American Board of Oral Implantology/Implant Dentistry (ABOI/ID), which requires six years of practicing implant dentistry, presenting cases to be reviewed, and passing a set of rigorous examinations.
Since all stages of the dental implant procedure are performed in-house, Dr. Beckwith is able to fully customize treatment and be with you every step of the way. He utilizes state-of-the-art technology to perform your surgery to achieve optimal results. This includes the ScanX Digital Panoramic X-Ray System for evaluating patients to determine if they are good candidates. He also employs CBCT (CAT scan) technology to ensure a proper diagnosis and make it possible to begin the planning process immediately. This also allows him to perform computer-guided surgery with the utmost precision and provide you with a shorter recovery.
Cost of Dental Implants
The cost of dental implants will vary greatly based on a number of factors. When you come in for your evaluation, Dr. Beckwith can give you an idea of what you can expect based on your oral state. In general, the amount you can expect to pay will depend upon the following:
Complexity of the surgery and if bone grafting is needed
Number of implants being placed
Material used to craft the crown
Laboratory fees
Expertise of the surgeon
Geographical area
Since dental implant surgery is such a specialized procedure, it is crucial that you seek a highly qualified dentist to obtain best results. If you choose a cheaper, less experienced dentist, you are also sacrificing quality. Considering the complexity of dental implant surgery, the expertise of your surgeon is very important to the success of your surgery and your overall safety. Dr. Beckwith is a board-certified dental implant provider and has placed close to 10,000 implants over the course of his career. He is highly sought after for his advanced skill and precision in performing both the surgery and placing the artificial tooth.
Although dental implants are more of an investment compared to other tooth replacement options, their value is far superior and can last a lifetime. Should you wish to discuss your financing options to make your payment more affordable, our Financial Coordinator is more than happy to sit down with you to answer your questions and help you find an appropriate plan to make dental implants a reality.
Contact Cornerstone Dental
For more information about what to expect with dental implants, and to learn if you are a good candidate for the advanced solution, please contact us to schedule your appointment with Dr. Beckwith.